Da jeg flyttet til Sverige var det så stor forksjell på vinduer at jeg var tvunget å sy nye kjøkkengardner med julete motiv. Valget falt på et mørkeblått stoff med snøflak og stjerner vevet inn i stoffet med sølvglimrende tråd.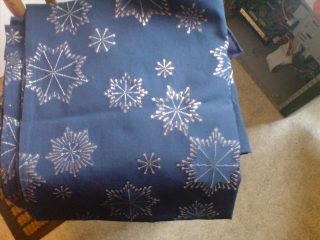 Det stoffet jeg valgte meg var et ganske dyrt stoff, nesten 400 kr per meter den gangen, og antagelig det dyreste stoff jeg noensinne hadde kjøpt. Jeg tok meg derfor ikke råd til å kjøpe så jeg hadde to bredder, men kjøpe en lengde og klippet på midten så jeg fikk to halver på hver side av vinduet.
Når man så flyttet til nytt kjøkken med enda større og høyere vinduer passet ikke lenger gardinene, de var for store for det lille kjøkkenvinduet, og der jeg bor nå er det dobbelt vindu så de passer selvklart ikke her heller. At jeg gjerne skulle hatt stolputer i samme stoff hjelper ikke på min lengsel, spesielt ikke når man ikke finner stoffet igjen.
Av og til spaker man seg selv for ikke å ha kjøpt mer mens det enda fantes i butikkene 🙁